Arizona 1.9 (2020-01-25)
Joystick control enhancement, updates
Arizona 1.5 (2020-06-14)
System console bugfix.
Software logo updated.
Battery image in case of no signal.
Signal strength for poor signal added.
Arizona 1.4 (2020-05-21)
Name change.
Communication bugfix.
About updated.
CSDriver 1.3
Control of one stage at the time (needs firmware update).
Icon for About box changed.
Arrow icons changed.
Rearranging of buttons.
Smaller icon of signal.
Multiple click on about button bugfix.
CSDriver 1.2
Bugfix of serial port settings.
Set speed is saved into config.
Signal icon added.
Shortcut for speed change moved to spacebar.
Major code cleanup.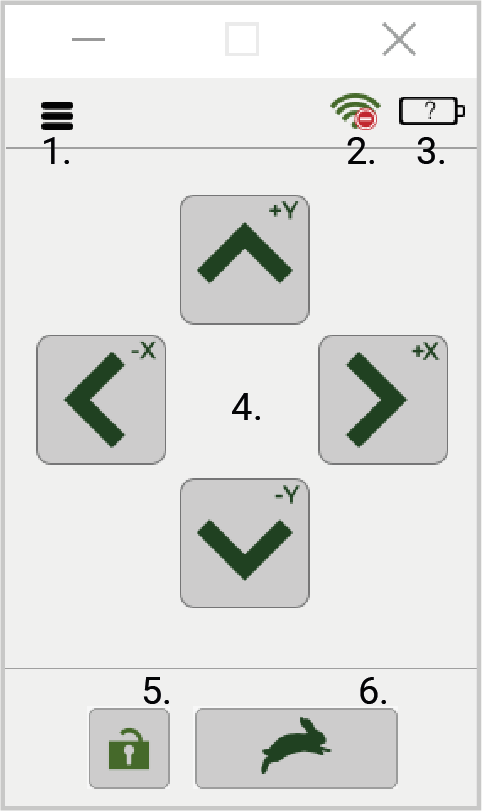 Driver software for stage SaguaroX.
Instructions to Control Device via Software Arizona:
The software displays the positive and negative directions of the axes, which correspond to the symbols on the device.

The device can be moved:
by clicking the screen buttons on Arizona software,

with keyboard buttons.
Arizona buttons description:
about window,
signal indicator – shows the strength of connection,
battery level indicator,
control arrows – move translation stage,
lock button – locks control buttons (arrows and keyboard control),
speed switcher – changes regimes between fast and slow.
Keyboard control:
keyboard arrows can be used instead of screen buttons,
control (Ctrl) works the same as the number 5 button,
spacebar switches speed regimes,
ctrl + S opens the settings window (where the port name can be set).
Workplace:  Hlavní 104 C, Lelekovice, 664 31
Invoicing address: Jundrovská 1230/19, Komín, 624 00 Brno